Complications of Circumcision
The development of the human penis is a complex sequence of events which results in an utterly individual outcome: no two penises are identical and there is a surprising range of anatomical detail that should be considered normal. Parents need to be assured of this range of normality. Moreover, the desire of practitioners for standard procedures can lead to unpredictable outcomes because of both this anatomical variation and the impossibility of predicting the functional results of surgical correction in infants. This is because the procedures are performed with an emphasis on achieving an acceptable cosmetic outcome on a very small organ which has the capacity for considerable growth and changes during puberty. Furthermore, no surgical procedure can have absolutely predictable outcomes because of the variations in healing and scar formation, the individual variations in technique, and the effects of infection. Regrettably, it seems that the majority of those performing surgical procedures on the penis of minors take no interest in following up the outcome after the organ has developed. Admittedly this involves a time span of at least a decade, but there have been very few attempts at quality control and many boys are left with seriously damaged penises; the outcome is often a functional impairment and is seldom tidy, to say the least. ...
Each operator applies the procedure idiosyncratically and without any absolute parameters, to which must be added the fact that it is surgery on a very small organ which will undergo a large increase in size (usually at least three times) at puberty. These factors may account for the wide variation in circumcision outcomes. A major failure in quality assurance with circumcision is that practically all operators never make any assessments of the outcome of their surgery after the period of growth so as to reduce the oft-seen poor results.
- Pathologist Ken McGrath
Ninth International Symposium on
Circumcision, Genital Integrity and Human Rights
Seattle, August 25, 2006
For a fuller list of Reasons Not to Circumcise, click there. Death now has its own page.
Strictly speaking, a disease has complications, surgery such as circumcision has side-effects.
Risks vs Benefits
An article in Pediatrics in January 2000 attempts to compare the benefits of circumcision with the risks. However, the only risks considered are the direct complications of surgery - and only some of those.
"Complications" are defined very conservatively, including only those that are noticed before the baby leaves hospital or that lead to him being brought back to the same hospital or doctor. They don't include aesthetic results so bad the parents take him back for more surgery. Nor do they include the ones the penises' owners learn to live with - after all, part of the rationale of circumcision is horror of the penis, so the mother of a cut baby probably doesn't get to see or attend to a significant proportion of uneven cuts, scarring etc.
The researchers did not cite two of the main studies of complications, those of William and Kapila or Patel.
Benefits are defined very generously, using a lot of the work of Wiswell, rather than those who estimate the benefits more conservatively, such as To.
No intrinsic worth is assigned to having intact genitalia, or to not performing invasive surgery, or to having a choice.
The same is true of a study published in New Zealand, sometimes cited as supporting an overall advantage to infant circumcision. A cohort of all the boys born in one city over a period of months in 1977 were followed for eight years. (They are still being followed.) This study is potentially valuable, because only one quarter of the 590 boys were circumcised at birth. Few US studies include enough intact boys to achieve statistical significance.)
It seemed to find that circumcised boys had more penile problems in their first year, intact boys in the longer term, with a difference of "marginal significance" in favour of circumcision. Closer examination shows that boys not circumcised at birth continued to be counted as "uncircumcised" throughout the study, and their "penile problems" included complications of post-neonatal circumcisions!
"The estimated 1% to 3% incidence of complications after newborn circumcision covers only the immediate postoperative period prior to the infant's discharge from the hospital. The reported risks are hemorrhage in 1%, infection - occasionally leading to sepsis - in 0.5%, meat[iti]s and meatal stenosis, u[r]ethrocutaneous fistula, adhesions between the glans and remaining prepuce, secondary phimosis, and cosmetically unsatisfactory results. The rate of subsequent repeat surgery to correct adhesions of the glans, meatal stenosis, fistula, and phimosis with buried penis is unknown, but our practice at Children's Hospital of Philadelphia includes about two such cases per month. While this is not a large percentage of the total number of circumcisions preformed, it is a significant number of children undergoing surgery for the complication of this operation. "
- Schwartz, et al. "Pediatric Primary Care: A Problem-solving Approach" pp 861-862.
(At 1.25 million circumcisions of newborns in the US per year, a 0.5% infection rate amounts to 6000 cases per year, and a 4% overall rate of complications requiring treatment represents 48,000 patients experiencing avoidable morbidity.)
Pieretti et al. at the MassGeneral Hospital for Children found 424 (4.7%) out of 8,967 operations in 2003-7 were for complications resulting from previous neonatal circumcision. (Note that this is the fraction of operations, not circumcisions) and 127 boys with concerns following newborn circumcision represented 7.4% of the total volume of cases seen in the pediatric urology outpatient clinic.
De la Hunt found complications requiring attention by the GP in 22% of circumcisions.
de la Hunt MN. "Paediatric Day Care surgery: a hidden burden for primary care?" Ann R Coll Surg Engl. 1999; 81:179-82.
Where facilities are scarce, the position is much worse.
Bungoma district, Kenya: Assessment of traditional and medicalised male circumcision
The study, which was conducted to establish a pre-training baseline assessing safety of male circumcision in resource-poor settings found high rates of adverse events for both medical (17%) and traditional circumcision (35%). The most common were profuse bleeding, infections, pain, insufficient foreskin removal and torsion. The study findings highlight what could go wrong if providers are not well trained and adequately equipped to perform male circumcision in hygienic settings with good post-surgical follow-up.
UNAIDS/CAPRISA Consultation
on Social Science Perspectives
on Male Circumcision for HIV Prevention
18-19 January, 2007
Summary Report
Linus Okeke, Adanze A Asinobi and Odunayo S Ikuerowo
BMC Urol. 2006; 6: 21.
Published online August 25 2006
Abstract
Background
The number of infants managed for neonatal circumcision injuries in our unit has been on the increase over the past 16 years. In our search for the sources and reasons for these injuries, we were unable to identify any previous studies of circumcision injuries from our environment. We therefore decided to carry out this study in order to shed some light on this growing problem.
Methods
The patients were made up of 370 consecutive consented children attending our infant welfare clinic for immunization over a period of 3 months. Information on their demographic data, their age at circumcision, where, why and who circumcised them was obtained from their mothers. They were clinically examined for the presence and type of complications of circumcision.
Results
Our circumcision rate was 87%. Neonatal circumcision had been performed in 270 (83.9%) of the children. Two hundred and fifty nine (80.7%) were performed in hospitals. The operation was done by nurses in 180 (55.9%), doctors in 113 (35.1%) and by the traditional circumcisionist in 29 (9%) of the children. Complications of circumcision occurred in 65 [20.2%] of the children. Of those who sustained these complications, 35 (53.8%) had redundant foreskin, 16 (24.6%) sustained excessive loss of foreskin, 11 (16.9%) had skin bridges, 2 (3.1%) sustained amputation of the glans penis and 1 (1.5%) had a buried penis. One of the two children who had amputation of the glans also had severe hemorrhage and was transfused. Even though the complications tended to be more likely with nurses than with doctors or traditional circumcisionists, this did not reach statistical significance (p = 0.051). [That is, doctors were no better at circumcising than nurses.]
Conclusion
We have a very high rate of complications of circumcision of 20.2%. We suggest that training workshops should be organized to adequately retrain all practitioners of circumcision on the safe methods available. [The complication rate could also be reduced by reducing the circumcision rate.]
A Brazilian study
J. Ped. Urol. (2010) xx, 1-6
Prospective randomized trial comparing dissection with Plastibell circumcision
José Murillo Bastos Netto, José Gonçalves de Araújo Jr, Marcos Flávio de Almeida Noronha, Bruno Rezende Passos, José de Bessa Jr, André Avarese Figueiredo Received 23 August 2009; accepted 7 January 2010
Abstract
Objective: To compare and evaluate dissection and Plastibell™ circumcision techniques for the treatment of phimosis.
Methods: In 2006-2007, 125 children were submitted to circumcision by the same surgeon. The children were randomly divided into two groups (PD: Plastibell™ and DC: dissection). In both groups the surgery was performed under general anesthesia and dorsal penile block. The dissection circumcision used the double circular incision technique. Follow-up was done on days 15, 45 and 90 after surgery.
Results: Sixty-eight patients were included in DC and 57 in PD. The mean age at surgery was 71.76 +/- 31.56 months for DC and 70.95 +/- 31.73 months for PD. There was no difference in Kayaba's classification for phimosis or indication for surgery between the groups. Surgical time for DC was 14.64 +/- 1.93 min and for PD 3.29 +/- 1.48 min (P < 0.001). The incidence of immediate complications was similar, but late complications, especially adhesions, were greater in DC (P < 0.01). The use of pain medication (paracetamol) was similar during the first 2 days after surgery, but was greater in PD from the 3rd day after surgery (P < 0.05).
Table 2 Immediate and late complications.

DC n (%)
[N=68]

PD n (%)
[N=57]

p

Immediate complications

Total

10 (16.17%)

3 (5.26%)

0.08

Hemorrhagic

5 (7.35%)

2 (3.51%)

Reoperation

1 (1.47%)

0

Other

5 (7.35%)

1 (1.75%)

Late complications

Total

8 (11.76%)

3 (5.25%)

0.34

Cicatricial
[scarring]

6 (8.82%)

2 (3.50%)

Hemorrhagic

2 (2.94%)

1 (1.75%)

Adhesions

20 (29.41%)

6 (10.52%)

0.014
Conclusions: Plastibell™ circumcision has a shorter surgical duration with fewer late complications, but requires more analgesic medication after the 3rd day post surgery.
[One boy in six suffered an immediate complication and one in nine a late complication, from the sleeve procedure. More than one in 20 suffered an early complication, and another one in 20 a late complication from the Plastibell™. Nearly three in ten suffered an adhesion from a sleeve procedure, and more than one in ten from the Plastibell™. The p-values reflect only the signicance of difference between the two operations. As usual, the authors are only concerned which operation is "better", not whether it should be done at all.]
A Danish study - 5% complications
Danish Medical Journal Dan Med J 2013;60(8):A4681
May 30, 2013
Complication rate after circumcision in a paediatric surgical setting should not be neglected
Jørgen Thorup, Sebastian Cortes Thorup & Inge Botker Rasmussen Ifaoui
Abstract
Introduction: As a consequence of the discussion on whether the health benefits of newborn male circumcision outweigh the risks and the discrepancies in reported figures of complications, we evaluated our results from a paediatric surgical department.
Material and methods: Patient file data from children who had undergone ritual circumcision in the 1996-2003- period were retrieved. Complications recorded until December 2011 were noted.
Results: Circumcision in 315 boys aged from 3 weeks to 16 years (median five years) were evaluated. A total of 16 boys (5.1%) had significant complications, including three incomplete circumcisions requiring re-surgery, two requiring re-surgery six months and five years postoperatively due to fibrotic phimosis and two requiring meatotomy due to meatal stenosis two and three year postoperatively. Acute complications included two superficial skin infections one week postoperatively and five cases with prolonged stay or re-admissions for bleeding the first or second postoperative day, whereof two underwent operative treatment. Finally, two had anaesthesiological complications leading to a need for overnight surveillance, but no further treatment.
Discussion: Parents should be counselled and be required to provide informed consent that any health benefits of childhood circumcision do not outweigh the reported complication rate and that therefore they should weigh the health benefits against the risks in light of their religious, cultural and personal preferences. As ritual circumcision is legal, a strong focus on high surgical/anaesthesiological standards is needed to avoid complications.
A Paediatric Urologist writes
Men's Health magazine 2/5/2009 9:07 AM CST
Neonatal circmcision is totally unnecessary, and there is no current role for preventative or prophylactic neonatal circumcision.
Unfortunately, 70-80% of neonatal circumcisions are performed by obstetricians, who can neither manage their complications (2-5% incidence) nor obtain proper informed consent (defined as outlining risks and benefits of a procedure, as well as alternatives-including nothing) for neonatal circumcision. Currently, the American College of OB-GYN (ACOG) have no paramenters for training (learning and performing neonatal circumcision, managing complications)of residents, who then go out and continue this practice.
In my practice, as a pediatric urologist, I manage the complications of neonatal circumcision. For example, in a two year period, I was referred 275 newborns and toddlers with complications of neonatal circumcision. None of these were 'revisions' because of appearance, which I do not do. 45% required corrective surgery (minor as well as major, especially for amputative injury), whereupon some could be treated locally without surgery.
Complications of this unnecessary procedure are often not reported, but of 300 pediatric urologists in this country who have practices similar to mine...well, one can do the math, to understand the scope of this problem...let alone, to understand the adverse cost-benefit aspect of complications (>$750,000) in this unfortunate group of infants and young children. Fortunately, neonatal circumcision is on the decline as parents become educated...but the complications still continue.
Until the time that the USA falls in step with the rest of the planet who does not submit newborns to neonatal circumcision, ACOG should assure that the training of obstetricians to perform this procedure is adequate, particularly in avoiding and managing complications of a procedure that is unnecessary, and that obstetricians learn to obtain proper informed consent from parents who have no idea of the problems that can ensue.
M.David Gibbons, MD
Associate Professor, Pediatric Urology, Georgetown University School of Medicine and George Washington School of Medicine. Attending Pediatric Urologist, Childrens National Medical Center, Washington, DC. Director, Pediatric Urology, Georgetown University Hospital, Washington, DC. Head, Pediatric Urology, Inova Fairfax Hospital For Children, Falls Church, Virginia. Posted at Men's Health Magazine on The Debate Over Circumcision: Should All Males Be Circumcised? in the comments section (http://www.menshealth.com/)
Some circumcisionists did a study....
JAMA Pediatr. Published online May 12, 2014. doi:10.1001/jamapediatrics.2013.5414
Rates of Adverse Events Associated With Male Circumcision in US Medical Settings, 2001 to 2010
Charbel El Bcheraoui, PhD; Xinjian Zhang, PhD; Christopher S. Cooper, MD; Charles E. Rose, PhD; Peter H. Kilmarx, MD; Robert T. Chen, MD, MA
Importance Approximately 1.4 million male circumcisions (MCs) are performed annually in US medical settings. However, population-based estimates of MC-associated adverse events (AEs) are lacking. [And isn't that scandalous in itself, when the operation is performed with no diagnosis?]
Objectives To estimate the incidence rate of MC-associated AEs and to assess whether AE rates differed by age at circumcision.
Design We selected 41 possible MC AEs based on a literature review and on medical billing codes. [One of the commonest complications is meatal stenosis following meatal ulcer. The word "meatal" does not occur in the text of the study, only in one of the references, which is then ignored.] We estimated a likely risk window for the incidence calculation for each MC AE based on pathogenesis. We used 2001 to 2010 data from SDI Health, a large administrative claims data set, to conduct a retrospective cohort study.
Setting and Participants SDI Health provided administrative claims data from inpatient and outpatient US medical settings.
Main Outcomes and Measures For each AE, we calculated the incidence per million MCs. We compared the incidence risk ratio and the incidence rate difference for circumcised vs uncircumcised newborn males and for males circumcised at younger than 1 year, age 1 to 9 years, or 10 years or older. An AE was considered probably related to MC if the incidence risk ratio significantly exceeded 1 at P < .05 or occurred only in circumcised males. [Since P is itself a measure of significance, how was this "significant excess" over 1 decided on? Room for a fudge-factor here - they can just say the significance is "not enough" over one and ignore the risk.]
Results Records were available for 1 400 920 circumcised males, 93.3% as newborns. [Extremely large numbers prove nothing. Garbage in still means garbage out, just more of it.] Of 41 possible MC AEs, 16 (39.0%) were probable. The incidence of total MC AEs was slightly less than 0.5%. [That's still 6000 adverse events/year, 16/day in the USA.] Rates of potentially serious MC AEs ranged from 0.76 (95% CI, 0.10-5.43) per million MCs for stricture of male genital organs to 703.23 (95% CI, 659.22-750.18) per million MCs for repair of incomplete circumcision. Compared with boys circumcised at younger than 1 year, the incidences of probable AEs were approximately 20-fold and 10-fold greater for males circumcised at age 1 to 9 years and at 10 years or older, respectively.
Conclusions and Relevance Male circumcision had a low incidence of AEs overall, especially if the procedure was performed during the first year of life, but rose 10-fold to 20-fold when performed after infancy.
[The narrow definition of "adverse effects", and the arbitrary measures of significance, mean this study will inevitably underestimate the risks of circumcision. Death from circumcision would not show up in this study, for example, because the baby would not be returned to the hospital.]
This study, predictibly, got world-wide headlines of the form "Circumcision safer if done earlier". ("Hurry! This offer won't last!")

A Utah study - 11.5% complication rate
The Societies for Pediatric Urology
poster presentation at the 66th annual meeting, May 18-20, 2018
Identification of circumcision complications using a regional claims database
Glen Lau, Jaewhan Kim, Anthony Schaeffer, Salt Lake City, UT
INTRODUCTION AND OBJECTIVES: Circumcision remains a very common procedure in the United States. Published complication rates are lower than clinical practice suggests. We aimed to use a population-based claims database to define the regional 2 year complication rate in boys who underwent circumcision. We hypothesized that this rate would be between 1 and 5%.
METHODS: The Utah All-Payer Claims Database (UAPCD) contains data from health insurance carriers, Medicaid, and third party administrators in Utah. The data consist of medical and pharmacy claims as well as insurance and health care provider data, and all residents in the State of Utah are included unless they opt out. The UAPCD was queried for all male patients aged 0-730 days undergoing circumcision (CPT 54150, 54160 and 54161) during the year 2013. Subjects were censored if they had less than 2 years of post-procedure data. Demographic, medical and procedure-specific data was abstracted. ICD-9 and -10 codes were used to identify infectious, bleeding, urethral, skin and wound healing-related complications. Encounters for circumcision revision (CPT 54161, 54163), or lysis of penile adhesions (CPT 54162) were noted.
RESULTS: In 2013 there were 26,069 male births and 6298 circumcisions were captured. [That's a rate of only 24.1%.] The mean age at circumcision was 9.8 days for those who had circumcision with a clamp (CPT 54150), 16.3 days for those who had a surgical circumcision other than clamp (CPT 54160) and 309.3 days for boys who had a formal circumcision after the neonatal period (CPT 54161). 725 (11.5%) complications were identified. The two most common complications were phimosis in 433 (6.9%) and other wound related complications such as acquired torsion, buried penis and edema in 168 (2.7%). Infectious/inflammatory (1.2%), urethral (0.5%), and bleeding (0.3%) complications were rare. 101 (1.6%) patients underwent surgical revision or lysis of penile adhesions. Complications did not differ significantly between patients who h the original circumcision in a hospital vs. an outpatient setting (p=0.33) or in an urban vs. rural location (p=0.22). When adjusted for healthcare setting and location, the difference in complications between patients less than 90 compared to those 90 to 730 days old was not significant.
CONCLUSIONS: The incidence of post-circumcision complications at 2 years is much higher than expected at 11.5%, but does not appear to be influenced by age at circumcision, healthcare setting or a rural vs. urban location. A minority of subjects needed reoperation during the ensuing 2 years.
Source of Funding: None
A California study - worse than thought

The following complications are listed in approximately increasing order of severity.
Correctable complications
Re-adhesion
Circumcising is supposed to make a penis "maintenance-free". Yet these mothers, all in one region, all report the need for excessive maintenance, including having to "scrub with a washcloth" making "diaper changes traumatic" - all without questioning circumcision itself.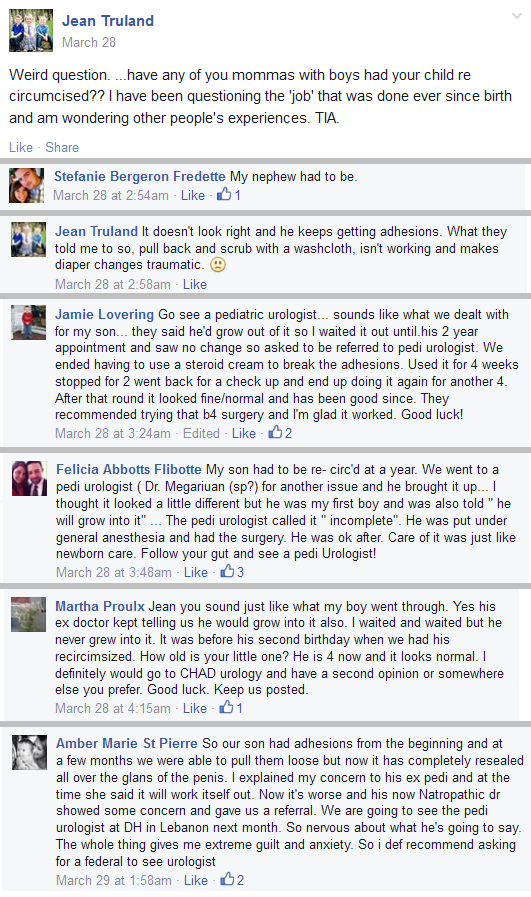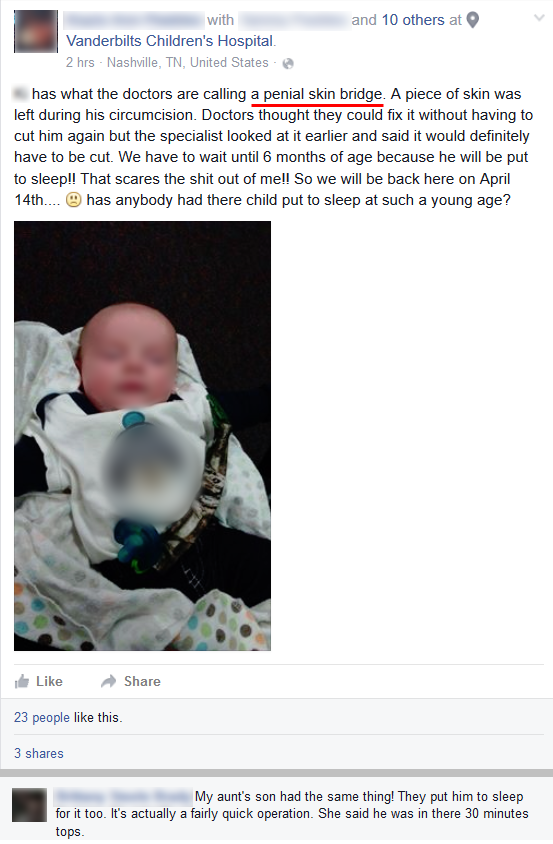 In Reuters, via Medscape:
Most Penile Adhesions Resolve Spontaneously
After Neonatal Circumcision

[The real headline:
More Than Two-thirds of Circumcised Babies have Penile Adhesions]
WESTPORT, Aug 03 (Reuters Health) - Penile adhesions are common after neonatal circumcision, but most do not require any intervention, according to researchers from the Cleveland Clinic Foundation, in Ohio.
Dr. Lee E. Ponsky and colleagues looked for penile adhesions in all circumcised boys who presented to their pediatric urology clinic. In total, 254 boys were examined, ranging in age from 1 month to 19 years, 8 months.
The prevalence of penile adhesions declined with age, the investigators found. [That, or the incidence of penile adhesions has been increasing over the last 20 years.] All told, 71% of infants had adhesions compared with 28% of boys ages 1 to 5 years, 8% of those ages 5 to 9 years and 2% of older boys. About one third of infants had adhesions more severe than grade 1, compared with 10% of boys ages 1 to 5 years and none of the boys older than 5 years.
Seven of the patients had been treated for adhesions, and three of these had recurrences, Dr. Ponsky and colleagues note.
The findings indicate that most penile adhesions resolve spontaneously with time, the researchers write. Although the study did not address the reasons for spontaneous resolution, they point out that possible mechanisms include "an increased number of erections with age, penile growth, hormonal influence on local tissue and keratin pearl formation." [This indicates ignorance of the normal development of the intact penis, and how it might be affected by circumcision.]
Based on their findings, the Cleveland researchers advise against routine lysing of penile adhesions, except perhaps when they involve the circumcision line. [Another conclusion is that these adhesions could be prevented by not circumcising.]
"Adhesions that involve the circumcision line may be more likely to cause skin bridges," they note. [How else do they think skin bridges are caused?]
J Urol 2000;164:495-496.
This site for mothers recounts many adhesions requiring "re-circumcision". The option of not circumcising does not seem to have been considered.
Other unspecified damage requiring re-circumcision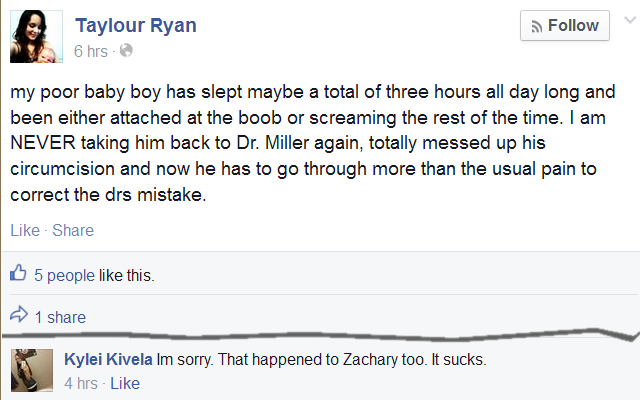 Facebook, July 17, 2014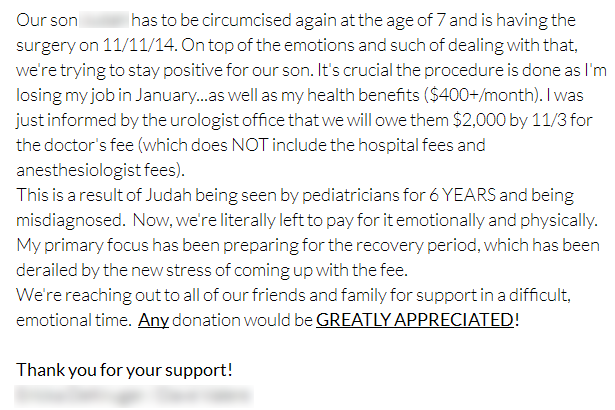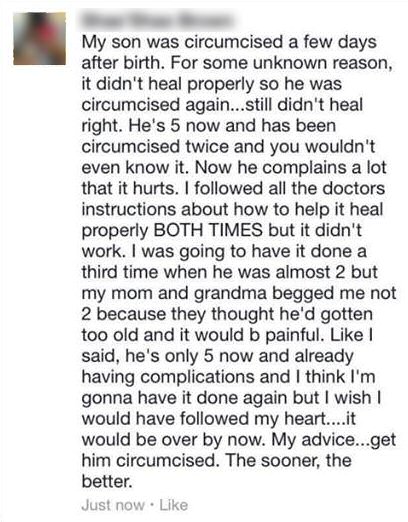 - Facebook, cJanuary 25, 2016
Aesthetic damage
Unaesthetic outcomes of circumcision are seldom reported. One purpose of circumcision is to create a "maintenance-free penis" and mothers are less inclined to inspect it than mothers of intact sons. Click here for pictures of

There is a collection of ugly circumcisions on Tumblr
One reason aesthetic damage is so common is that the baby's penis is tiny compared to the man's. Any mishap is enlarged, like writing on a balloon.
Balloon inscribed then inflated

Balloon inflated then inscribed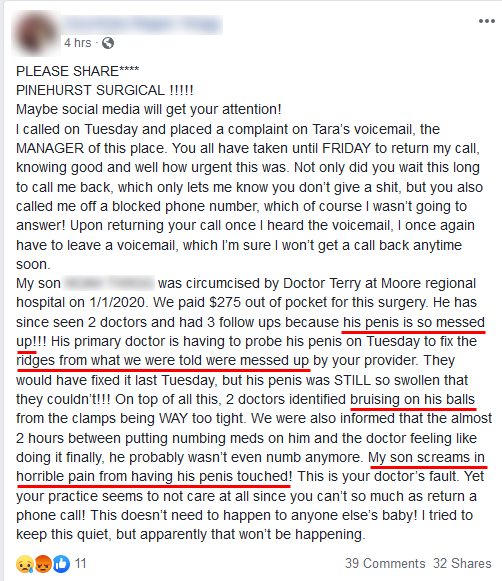 It is unclear what the "ridges" are, or how probing might fix them.
There should be no clamping and hence no bruising of the testicles.
Phimosis
Blalock et al. found phimosis in 2.9% of 521 circumcised boys, two-thirds of them (10/15) with buried penis. Since "phimosis" (usually a misdiagnosis of the normal infant attachment of the foreskin to the glans) is a common reason for circumcision, this is ironic indeed.
Hairy shaft
The shaft of the penis is normally hairless, but erection of a tightly circumcised penis can pull hairy scrotal skin on to the shaft, causing discomfort on intercourse.


One sufferer is shock-jock Howard Stern. He discussed it on May 4, 2006 at 6.15am.
Wound Dehiscence
Parting of the joined cut edges.
Kristen and I also had a bizarre sexual allergy to each other. Whenever we made love, a painful rash spread across me which would take about three weeks to heal. We went to a number of doctors, but we never resolved the problem. I even had a circumcision to try to stop the reaction. Being circumcised aged 24 is not a good idea, particularly if the night after your operation you find yourself watching Jane Fonda's erotic film Barbarella. Before I could stop myself, I had burst my stitches! Hearing my screaming, Kristen came running to see what the matter was. When she found out what had happened, she was in stitches. I no longer was.
- Richard Branson "Losing My Virginity" p 142
Branson has heavily promoted circumcision in Africa, in a clear case of the Fox Who Lost His Tail
Pictures of wound dehiscence (NSFW)
De-gloving
(Where the outer skin layer slides out of alignment with the mucosa, like a glove coming off a finger)
To Plastibell or Not To Plastibell?
Comment for the STFM procedure list dialog on Circumcison Techniques.
I have been unhappy with the Plastibell device...
Mogen is the easiest and fastest with excellent safety, but lack of fundamental skills with needle and thread intimidate many from being able to do these procedures past the newborn period.
...
REPLY MF-MD I would still vote that residents need to learn Plastibel, too. I did more Plastibels than Gomco's in residency, and am much more comfortable with them, and faster. A Urologist that has helped us with complications we've had with Gomcos said he sees far more complications with Gomco's than Plastibel's. And I've had 2 situations lately where we started one procedure, and for various reasons switched to the other (one each way!). And sometimes you go to do a Gomco and find the size you need isn't available... Just my thoughts. Mary
REPLY -WMR I've never seen a long term complication from a Gomco, but continue to believe that the procedure is not medically indicated. What are the complications you witnessed that required care of a urologist, and could you give me an estimate of their frequency?
REPLY MF-MD I see residents differentially pull too much of the outer skin through, leading to a "de-gloving" problem which distresses the parents. [It probably distresses the babies, too.] I've also see residents inadvertently separate the two layers as they get the skin off the bell, again leading to bleeding and a "de-gloved" appearance. Obviously this is a teaching issue, and we work to prevent it. I see/hear this about once a year, overall. The only complication I've had with a Plastibel in 18 years (18 years mine and 3 years residency teaching) was once when we probably used a ring that was slightly too large and it slipped up onto the shaft after it separated and required some imagination to get it off! Mary
REPLY-FORMAN The only complication I used to get from a Gomco was the occasional bleeding, easily sutured with some gut suture.
REPLY WMR--WE have seen the degloved effect once every 70 Mogens in the hands of inexperienced physicians, but it is easily identified. It does not require urological consultation, but you do need to identify the correct anatomical plane and reapply the clamp.
...
Wm MacMillan Rodney MD
Adjunct Professor of Family Medicine
Meharry/Vanderbilt School of Medicine
Medicos para la Familia
Memphis and Nashville, Tn.
www.psot.com
See also Ethics for more admissions from this doctor.
A de-gloving in Muncie, IN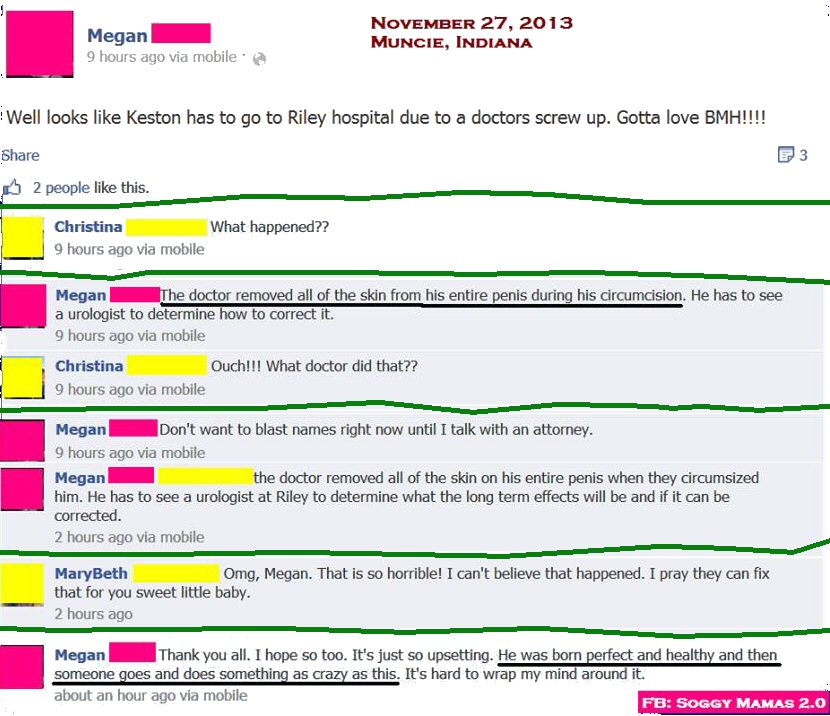 Film director Frank Capra was a victim of de-gloving as an adult.
Too much skin removed on one side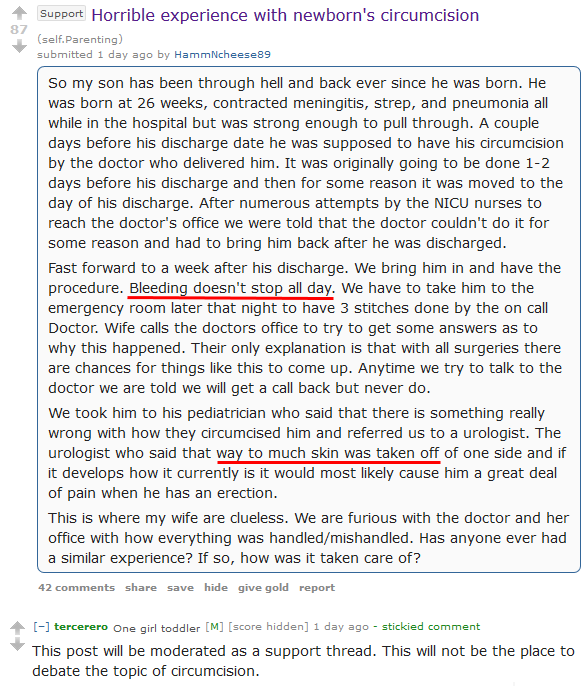 - Reddit, May 31, 2016