(or "Nip-Tuck" or "NipTuck") FX Channel, July 22, 2003 didn't wait for its circumcision sequence. It began in episode 1.
Glamourous, caddish cosmetic surgeon Dr Christian Troy (Julian McMahon) and Matt McNamara (John Hensley III), son of Troy's ethical, impassive homely partner Dr Sean McNamara (Dylan Walsh) are about to go sailing in Troy's cruiser, the Boatox.
Christian: God, it is beautiful out here, huh?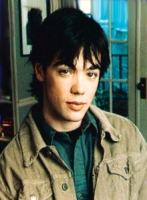 John Hensley III (Matt McNamara)
Matt: Oh yeah, it's perfect weather for skipping school.
Christian: I want you back by third period, Matty. We agreed. Here. I wrote you a doctor's excuse.
Matt: Thanks. Hey listen. and thanks for the medical consultation stuff. Um, when can we schedule an operation?
Christian: Whoa, Whoa Whoa. Slow down. Like it or not we have to talk to your dad about this. You're under 18. He has to sign the consent form.
Matt: Yeah....he'll never go for it. He's such an asshole.
Christian (angrily): Hey! Don't you call your father that. You don't know how lucky you got it. Besides your dad is not an asshole. Robots can't be assholes. (They laugh)
Later. Sean and Christian are scrubbing up
Sean: See, my wife's perceptive.(laughing)
Christian: Well you're not. A lot goes on in your family you don't know much about. If my son was getting brutally razzed at school, I'd have picked up on his changed behavior.
Sean: (surprised) Matt's having trouble at school and he told you this?
Christian: He's torn up. I guess he was showering at gym and shit and some tough guys were laughing at him and calling him "Anteater".
Sean(confused) : "Anteater"?
Christian: Basically, he's self-concious about his dick and he wants a circumcision.
[In South Miami?]
Sean: He doesn't need a circumcision. That's a vanity operation.
Christian: We're in the vanity business, Sean, it's what we do. Appearance is everything to a kid. It's how you fit in. Snip, Snip. He feels better about himself. And you, sir, can make that happen. How cool is fatherhood?
Sean: I'm not doing anything to my son's penis or my wife's breasts. [She asked him] I don't want my family infected by what we do here.
Christian: And what is it that we do here, Sean, other than make people feel better about themselves?
Sean: What we do here is let people externalize the hate they feel about themselves. Which is why I want to hire a fulltime psychologist to screen people better.
Christian (sarcastically): Great, and let's do yoga in the lobby.
Sean: Since Botox went wide it's been like a factory in here. There's no discernment, no caution.
Christian: This is a business, Sean, a very good business that is on the verge of setting us up for life.
Sean: Well, maybe I don't want to be in this business anymore.
Later. The waiting room. Julia McNamara (Joely Richardson) is reading a magazine. Enter Christian
Christian (surprised): Julia!
Julia: Hi.
Christian: To what do we owe the pleasure?
Julia: Hey, oh, um, Sean's having a professional sitdown with Matt to talk to him about the......
Christian: So, I Heard. Tough stuff.
Julia: Seems Dr. Spock didn't write a chapter about, um.... [He did. He changed his mind.] Hey, Thanks for talking to him last week.
Christian (ironically): Everyone needs someone in their life who who'll listen, right?
Sean's office.
Sean: (to Matt) Tell me what you like about yourself?
Matt: Look, Dad, I'm grateful that you're treating me like an adult. But if we have to do this, can we skip the psycho mind-probe stuff?
Sean: Our mother and I have thought a lot about this topic. We didn't give you a circumcision because you were six weeks premature. Your little fighting body didn't need the stress of an operation.
Matt (shrugs): I could have handled it.
[As well as failing to address Matt's concerns, this conversation is full of non-sequiturs. As usual, the real reasons for leaving babies' penises alone - such as human rights and pleasure - are not mentioned.]
Sean: Matt, why did you go to Christian with your concerns instead of me?
Matt: Because he's cooler than you and he listens to me. I don't get that Father-knows-best bullshit from him. He treats me like a man.
Sean (nods): Matt, I'm going to make an appointment with a psychologist. I apologize we don't have one on the staff here. We should.
Matt: Whoa! What? Why?
Sean: You've never bowed to peer pressure before. I think something's going on.
Matt (upset): Look, I just want it, OK? I don't want guys talking trash about me and I know women don't like it when you're not cut. It's the smell or something....even though I keep it clean, so feel free to skip the hygiene lecture.
Sean: Matt, are you having sex with girls?
Matt: Not with girls, Dad. With Vanessa. Maybe you've over-heard me talking to Mom about her. You know she's beautiful, she's a varsity cheerleader. She can have any guy she wants. And she chose me.
Sean: So you have had sex?
Matt: It's getting there and I know she'll see it and hurl.
Sean: Matt, if this girl genuinely cares about you, she's not going to care about something trivial as extra skin. [Not extra. Standard equipment.]
Matt: Trivial?! This is my life! This is not trivial. Look, for once.......just give me something that I need.
---
July 29, 2003
Matt is sitting at the kitchen table doing homework. Enter Sean.
Sean (throwing a condom on the kitchen table.): Heads up.
Matt(picking it up, shocked but smiling): What's this?
Sean : It's a prophylactic, Matt.
Matt: Well, yeah. I know what it is, Dad. Why did you give it to me?
Sean: You're worried about your girl's reaction to your foreskin on the first time, right? Well, you responsibly slip this on when that time comes... she won't even know. Once you get your sea legs, you can be confident enough to initiate a conversation about what a foreskin is and how it really won't affect her pleasure. [No suggestion that it might actually give her more pleasure.]
Matt looks angry, frustrated and/or disappointed
Later. We see the lower halves of a man undressing a woman. Track up to reveal Matt and his girlfriend, Vanessa, kissing passionately. Cut to them in bed together.
Vanessa: Matt.
Matt: Mmm? Mmm?
Vanessa: I want to try it.
Matt: Oh... OK.
He gets out of bed
Vanessa: Where are you going?
Matt: Oh... uh... I was gonna get a condom.
Vanessa: I want to see it first.
Matt (smiling nervously ) OK... Yeah... sure.
He rolls on to his back looking uncomfortable. Vanessa moves out of shot to inspect him at length. When she surfaces he begins to kiss her but she doesn't respond.
Vanessa: It looks like a Shar-Pei. Are you part-Arab or something? [Virtually all Arab men, being Muslim, are circumcised. This presumably reveals the scriptwriters' ignorance rather than Vanessa's. It's been suggested she's referring to Arab horses ...]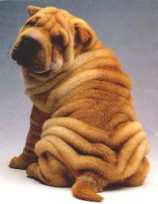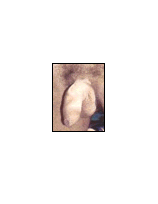 (left) a Shar-Pei and (right, to the same scale) a foreskin.
The same comparison is used in Sex and the City
Matt: Uh....no. (pause)
Matt: Does it turn you off that that I'm not - circumcised?
Vanessa (Avoiding eye contact.): No, not at all. (pause) Maybe we should just make out today. (She starts to kiss him on the mouth but Matt he does not respond.)
(Later . Matt and Christian are in a strip club)
Matt: Why won't you give me the circumcision? He doesn't even have to know.
Christian: Carving up your dick is a little more telltale than buying you a 6-pack on the sly, Matty.
(A waitress approaches)
Matt: Uh... Hi....I'll have a Dewar's straight up.
Christian: (Chuckles. ) He'll have a Coke. (He ogles the waitress) I'll have the Dewar's, sweetheart. Thank you
Christian: Besides, I'm of the opinion your father's right about this one. You don't need a circumcision.
Matt: Oh, fine. If you guys won't help me, I'll go to another surgeon.
Christian: Who'll operate without a signed parent consent form. Good luck. The problem isn't your dick, Matty. It's your confidence. You were timid and embarrassed. She saw that and that's what turned her off.
(Waitress returns with their drinks.)
Matt: Thanks. Um......why are we here?
Christian (Chuckling): Because we are gonna work on the confidence part. Yeah!
Matt (laughing): You're kidding me, right?
Christian: Au contraire, my little virginator. I've arranged for you to just get it out of the way. A little bang under your belt, I firmly believe you'll be able to bicycle over to Vanessa's place, grab that peachy ass and show her how it's done - with no fear.
Christian (facing Matt): Girls don't care if you have a 2 inch pecker, a hairy ass, or balls the size of cranberries. What they care about is that you know what you're doing.
Matt (chuckling and sighing): So which girl?
Christian(pointing over his shoulder at a woman who is waving and smiling at Matt.): Behind me. On the stairs . Her name is Avanti. Rumor has it she can suck the peel off an apple.
Matt: I feel entirely creep about paying someone to pretend they like me. No... Hey.... besides, man, I'm not gonna cheat on Vanessa . I love her. Haven't you ever had that?
Christian(thoughtfully): Once.
(Avanti walks over)
Avanti (to Matt): Hey, Papi.
Matt: Uh...Hey.
Avanti: Hey.
Matt: Ahem..... Um....yeah......Thank you (to Christian) but...um..no (to Avanti) no thank you.
Christian: Fair enough.(Sigh) Mmm, now if you'll excuse me. I'm gonna go upstairs and pay someone to pretend they like me.
(He takes Avanti by the hand and leads her upstairs, leaving Matt sitting alone)
(Later. Matt is sitting at a computer in in his bedroom. He types in "circumcision". ... He adds the words "how to" and hits "Search")
(Later. Matt and his mother Julia are in the kitchen)
...
Matt: Hey, Mom. Do you have any cuticle scissors?
Julia: Why do you need those?
Matt (holding up his hand): Why do you think? I have a hang nail.
Julia: Upstairs bathroom. Third drawer on the right.
(Later. Matt back at the computer)
Voice: "Hey, how's it going? You've logged onto Joey's Self-Circumcision Web Page. A guide for guys like me who have a foreskin problem and are too embarrassed to have the doctor do the duty. First things first, guys. Relax. A shaking hand means you could slip. I took a mild muscle relaxant."
(Matt pours himself a glass of wine)
Voice: "Other guys I know fared well on a glass of red wine. Be smooth and confident."
(Matt takes a big swallow. Later: he is pouring himself another glass, drinking it all, then another. He drinks from the bottle, finishing it. Matt reads and sharpens the cuticle scissors.)
Voice: "Your surgical tools have to be sharpened to razor-sharpness. When you do, the cuts are virtually painless and bleed very little. I didn't use ice or anything. There was no need."
(Cut to Matt staring at a picture of Vanessa. He begins to take off his shirt, then unzips his jeans, pulls them down a little and then pulls down his boxers a little. He reaches for the cuticle scissors.)
Voice: "For the first cut, grip the foreskin and pull it out. Cut in a circular motion, removing a thin quarter inch strip."
Matt looks shakily downward. We hear a single clipping sound. Matt flinches and closes his eyes. Slowly he raises his hand and his fingers are covered in blood. He slowly passes out hits the floor as the screen fades to black..
---
Broadcast August 5, 2003

Next morning. Julia is pacing around outside closed double doors.

Julia: What's going on, Matt? Are you OK?

Matt (on the other side, in the bathroom): Look, I'm gonna be fine, Mom. (to Sean, who is seated on the closed toilet lid) Right? I'm gonna be fine?

Sean: Take the ice pack off. Let me see.

Matt (resisting): Mm-mmmm

Sean: Matt, I changed your diaper hundreds of times. I've seen it. Come on.

After a long pause Matt removes the ice pack. At the crucial moment, the shot changes: though we repeately see the most gruesome plastic surgery in medical-school detail, we never see a live penis.

Sean (incredulous): You took a chunk out of your foreskin and lacerated the opening of your urethra. I can apply a slight pressure bandage. That will get you through the next couple of hours.

Matt: And then what?

Sean: And then later today you're coming into the office. And I'm gonna give you a proper circumcision

Matt: No shit?

Sean: On one condition: you start communicating with me! If there is something about your body you want changed, one of those nipple rings, whatever, we talk it out before you try self-mutilation. And if you have questions about sex, for instance, how to find and stimulate the clitoris, you come to me. I want to be involved in your life, Matt. Deal?

Matt (after a long pause): Deal.

Later. Sean, Julia and Matt are having breakfast. Matt reaches for an apple.

Sean: Aah! No food 12 hours before surgery.

Julia: Matt, you've never even had your tonsils out. Are you sure you want to do this?

Matt: Yes. It's important to me, Mom. And Dad agrees, so---

Sean: No, I don't agree. What you did has to be corrected by a professional. [This is not "correction". Salvage would be possible, though it is fine surgery.] I'm doing your circumcision out of medical necessity. Before we leave, you need to shave your genital region, Matt.

Julia: Carefully.

Matt: And the humiliations just keep coming, don't they. (Exit.)

Julia: I don't like this.

Sean: He'll be fine. I promise.

Later. Sean and Christian are scrubbing up. Later still, the operating theatre, Matt on the operating table. Sean looks worried.

Matt: Uncle Chris, what are you doing here?

Christian: You're the most important patient we've ever operated on, Matty. We're just taking extra precautions, that's all.

(Nurse) Liz: OK guys. Ready when you are.

Matt: I'm afraid.

Sean and Christian look at each other

Sean: You're gonna be fine, Matt. I wouldn't do this unless I could guarantee that.

Liz: I want you to count back from 10, OK?

Matt: 10, 9, ... ( and he's out. Matt is circumcised.)

Sean: All right. Let's do this. Clamp. Hemostat. Scalpel.

Christian hands Sean the scalpel. Sean begins to lower the scalpel but stops. His hand is trembling.

Christian: Let me do it. You're nervous. That's understandable.

Sean: I'm fine. I want to do this.

Christian: It's OK. We'll trade. You do Grubman's tummy tuck afterwards. I'll do Matt.

Slow motion. Sean passes the scalpel to Christian. Instead of seeing anything of Christian doing the circumcision, to a Strauss waltz, we see ghoulish detail of the tummy tuck, with emphasis on the forklike retractors and a large gob of fat being dropped in a bowl.

Later. Vanessa and Matt are on Matt's bed

Vanessa: Did it hurt?

Matt: You were worth it

They both chuckle, looking into each other's eyes.

Matt: The stitches come out next week. We can do it anytime after that.

As they move together, Sean bursts into the room

Sean: Matt, have you urinated yet today? (He starts when he sees Vanessa.

Vanessa (laughing): Buzzkill. Later.

Matt and Sean in the bathroom

Matt: Why do you want to see this?

Sean: I had to suture your urinarius, and I want to make sure there's no blood in the urine. That would be a sign of internal hemorrhaging. And I want to be here to support you.

Matt (puzzled): Why do I need that?

Sean: The first time you pee after an operation of this nature, It's going to feel like you're pissing fire, Matt. Just press down on my hand and scream if you want. Nobody's going to judge you.

Matt: I- I don't need to hold your hand, Dad. And, uh, can you give me some privacy?

Sean: Oh.

Matt tries to urinate

Sean: Vanessa's a little hard body, Matt. Looks like you're dating a future prom queen. Congratulations.

Pause

Matt: I can't dance.

Sean: OK, well let's come back in an hour then.

Matt: No, I, uh I mean I really can't dance. You're right about the prom thing. She's already asked me to go. And I don't.....don't know how to dance.

Sean: Uh, Well that's OK. Neither could I. You just say "It's not my thing."

Matt: This works?

Sean: I didn't even dance at my own wedding. Women like it when there's some mystery there.

Matt: Thanks

Matt: Uhh! Shit! It's coming! Uh! (reaches out) Hand!

Later. Loud rock music. Matt is knocking and calling at the front door of Vanessa's house. He enters the house. He sees Vanessa's pompoms and book bag on a settee. He goes upstairs and slowly opens Vanessa's door. Vanessa is passionately kissing and groping another girl. They see Matt. Matt runs out.

Later. Matt comes home and tries to sneak upstairs unnoticed.

Sean: Hey! Come on in here!

Matt comes back.

Sean: So tell me.

Matt: Tell you what?

Sean: How did it go with Vanessa? The stitches are out. I figured you- you know.

Matt (unconvincingly): It was great, Dad.

Sean: Just- great?

Matt: It was everything I wanted it to be. And I want to thank you for just really helping me out and giving it to me.

Sean: You're welcome. (They hug)

Matt: Uh, I'm gonna go wash up for dinner.

Matt goes to his room and closes the door. He leans against it and starts crying.

[And well he might. While this plotline is hardly pro-intact, not only did Matt's circumcision go to waste, but Vanessa was probably telling the truth that it wasn't his foreskin that was bothering her.]
---
In later episodes:
Neighbours blaming Matt for another incident say he "cut his own dick off."
Matt says to a Jewish friend who is considering converting to Christianity, "I wish I'd saved my foreskin; I could give it to you."